old "news" and the babble of the last years

2017JAN25 Meier & Erdmann - Howler Money out!

joining forces with Berlin based Moniker Eggplant,
Minor proudly presents its newest electronic pearl.

press info:

"Raised up and founded in Leipzig, Meier & Erdmann's unique blend of acoustic and electronic sounds, recorded both in the studio and in the fields, then meticulously sequenced and brought to the stage in one of their iconic live shows proves their broad background in classical, jazz and various bass-heavy electronic dance music styles. 'Howler Monkey' incorporates all these components and forms a sonic narrative oscillating between the organic and the algorithmic, the abstract and the concrete, the humorous and the melancholic."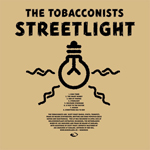 2016NOV26 Minor is proud to present:






audio snippets:

a1 king tiger
a4 streetlight
b3 hidden


press info:

"In spring of 2012 The Tobacconists, then consisting of Scott Foust and Frans de Waard, along with Mike Popvich (The Pickle Factory, Idea Fire Company), embarked on an European tour to promote their first LP/CD 'Smoking Is Green', via a staged performance of their radiophonic opera 'Smoking Is Green' (which was the bonus CD to the LP). In the 10 days leading up the first date, the group rehearsed at Frans' studio in Nijmegen, using downtime to record two new LPs; 'A Secret Place' was released by A Giant Fern/Fabrica in 2014 and now 'Streetlight' is released by Germany's Minor Label in an edition of 200 copies.
This new album sees the group extensively playing around with radio, synth and trumpet (Foust), synthesizer and rhythms (De Waard) and bass guitar and electronics (Popovich) and should appeal to all fans of minimal wave and elektro music. Thinking early Mute Records, Second Layer or early Cabaret Voltaire. Lots of rhythm, lots of synthesizers and a strong bass and doesn't sound alike their two previous releases. A short album (27 minutes) but it sounds excellent, thanks to the mixing by Jos Smolders (of THU20 fame) and Frans de Waard/Scott Foust and mastering at EARlabs. The cover is designed by Red Bol and printed by Knust in Nijmegen on raw board card and also looks strikingely different than your normal record. Download codes enclosed."


2016AUG18 minor034 approaching!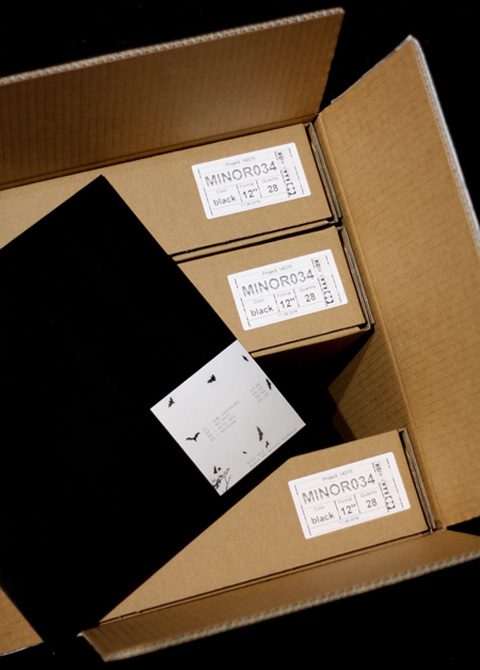 2015OCT04 DYL's concepts pressed on minor033.

6 tracks.
6 variations.
6 dark schemes of synthetic frequency layers.


___get it here!





2015SEP10 tlic's travelling to minor asia

experimental breaks, odd beats and loops
tlic returns with a concept ep (not from a journey).
what else? - minor spent the summer at home, planning, arranging...some more highly experimental electronix scheduled for the next time!



2015JUN13 minor omen reveals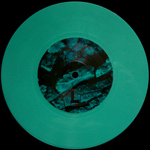 minor and luana/switzerland shared power, creativity and sound to bring you this beautiful split 7inch containing droning and pulsating electronics.

Diphasic on the ==> [M]inor side

Lcp on ==> [L]uana-side.

limited to only 108 copies, so be fast.
contact the musicians or labels, this little pearl won't be spread like there are thousands!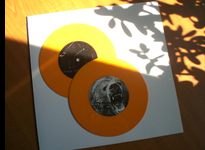 2015MAY20 transformation fulfilled!

probably the most aggressive minor release since minor001. one tiny 7inch, two violent dark techno tracks, so much frustration.
grrrrrr...

more infos soon.


maybe.
maybe not.




2015APR26 first minor record of 2015!

it took a while, but lost trashures made it possible, it's out since some days: "homefucking is killing prostitution" - the almost legendary cdr album by ps stamps back vs. anal vissi from Greece, originally released in 2004, droning ambient-glitch idm reissued as 12inch vinyl.

soon at the usual shops and platforms, get it with fair price policy direct at minor mailorder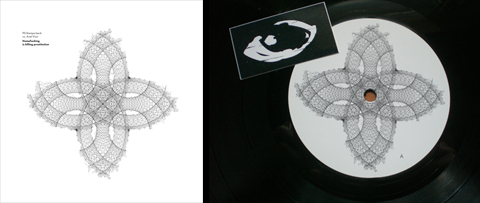 more records already in production!


2014DEC13 first 7inch of the minor seven!

to give place and sound to some fine electronic tunes for special audiences, i decided to put some effords into a non-conceptual mini series. first one is out, others will follow in no specific order, from time to time.
feel free to contact me if you think you have tracks ready for some wax.


Moloch - Universum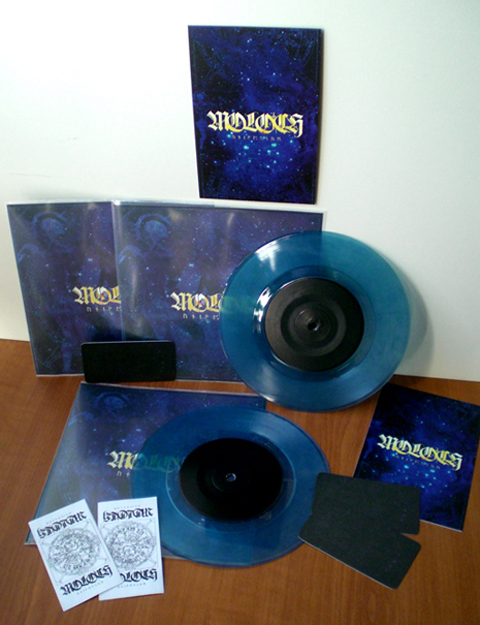 2014OCT25 yvatlic out!

no joke, it's stuffed with a poster and labeled with an info sticker, and it's as yellow as the picture down there shows. some audio is available to fit all your needs, just hit the 31+ link in the navigator, left side. drop a note if you want to have one.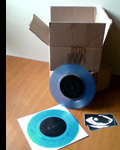 some rumors

...tell that there will be a tiny little droning ambient monster to be released at the darkest days of the year.
Moloch from Ukraine will join the sinister side of minor electronic sound, to be the first 7inch in a special series.
more infos soon!



2014SEP30 yvatlic out in a few days!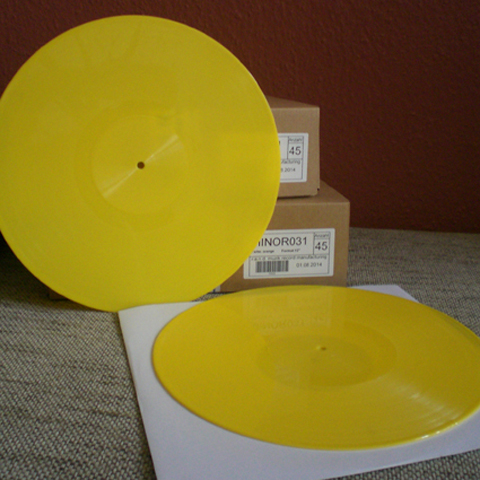 2014MAY24 and here it is

tlic - the inaccessible ep, 4 tracks (and one epilogue) of pure electronic mind techno. limited to only 222copies. beautiful as the human brain is! get one, if you think you know what the hidden meaning could be. or just if you simply like abstract dark sounds from beyond the post-rave-era.
just to mention: minor031 is already in production. minor032 will follow soon.


2014APR28 minor reaches the 30s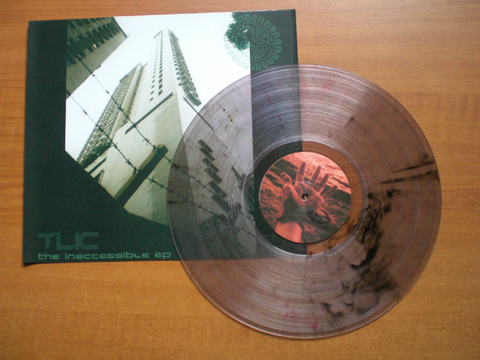 hittin' the street within the next weeks!


2013DEC31 and yes...

2013 is almost gone. was a good year. minor was still active, though in its usual state of delay and real life hindrances. as other's were, too, i guess. find the fruits of creative work and fine electronic sound in the mailorder section, and be assured that there will be some fine records in 2014.
see you there!


2013SEPXX guess what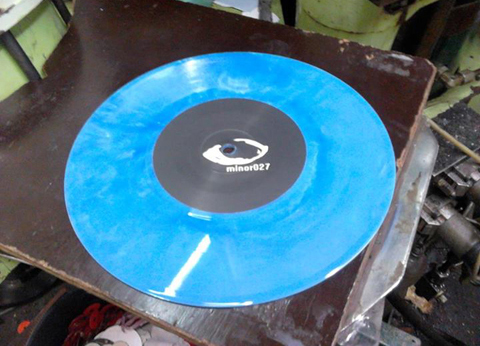 2013APR01 bad joke, or not?
get the first 10 minor releases as free downloads, even as some are still available as physical copy.
but times go by, years go by, and after all you are grown up enough to realize: some recordings are pretty poor. and some things shouldn't have been done as they were done. enjoy and keep'em in your memory.




2013MAR31 minor028 OUT!!!
yvat was pretty busy and Minor was, too. a wonderful 12inch is available and shines in pure marbled grey. 4 tracks of digital melancholic groove. click on "minor021+" in the navigator and find some mp3 snippets.
and like before you can have your copy here: minor-mailorder
or on discogs, but it's more expensive there.


2012OCT21 CHANGES: Step Two
i removed links. was like burry dead friends. they closed activities or moved away. we had a good time.
r.i.p.


2012OCT17 CHANGES: Step One
i kicked the myspace-button/link off the page. if you're asking why: this platform is dead (kidding, am i?). once i wasted approx. 3 hours for trying to change a shitty layout in a at least not-so-shitty look, and then they just screwed it up with a 2.0 version. as virb did with me not much time before (anybody remembering this community at all?).
big ??? to all the ones who believe that WITHOUT an account (anywhere...) i'm poor and will rot in the hell of ignored micro-labels some day. i hope they gain immortality while updating profiles and feel sheltered in the mob of likes and dislikes.


2012OCTXX announcing reconstruction!

yes, it has been a while since the last expressive update, but Minor wasn't inactive meanwhile. like i made plans.
i decided to arrange things in a new manner. the shop will be relaunched in a new shape with a better functionality (at least i hope so). soon. and some more things are waiting to come. downloads, new releases. so get excited, but show patience.

just to mention: i won't join any new/other/stupid/hyped social network where young and old gather to... - well, i don't know what these digital (=nonexisting) communities are for.
call me anti-social if you have to. it feels better being an individual and independed Minor than a mainstream nobody with any preset-account. so save your time worrying about the absence, just have a look at my page from time to time. and if you're not welcomed with tons of news and updates, you might enjoy the feeling that at least one place hasn't changed and is still the same.
a good thing, isn't it?


2011MAY30 minor026 out now!



minor is proud to present a legendary project from the good old industrial days. after having released numerous strictly limited records since the late 70s, Boiled Rice & Mobbing Christel strike back on noizy dancefloors with their album "europe must be the place". Be fast, as this one is strictly limited, too.

rumours say that minor025 will hit the scene soon. another 75% weird electronic vinyl from a well-known musician that already belongs to the minor family.
more on that issue to follow!


2011MAY02 another chaotic relaunch!

the headquarter relocated once more. yes, no party! no, not a concept to confuse the world with a new postal address for nearly every release.
so here is the current one for everybody who's still able to hold a pen and write some lines with it (but do it quick, don't know how long this will be valid in these fast-living and unsecure times):



minor
c/o wiedemann
wichernstr. 21
04318 leipzig
GERM-many

and there will be a few nice releases within the upcoming time.
no joke!


2009NOV01 two new CDs on focus-electric.



first is a homage to Germany's secret capital of sound (no, nothing you might have in mind!): ILMENAU. a compilation full of artists and projects, and full of nice electronic music.




the second: an advanced dark research into ambient sounds done by Russian soundfx artist Andrew Oudot whose other projects are highly recommended as well.

something for you? - get them at minor-mailorder


2009OCT?? yessss...
it's been a while since the last update, but maybe there's something to work on the next time. don't think i spent this time relaxing and shaking butt'n'bones at a so called "pause to get pregnant with new inspiration and creativity" - like only morons tell they have to do. strong puzzled minds don't need such pauses, they could do anything at any time. well, the last year was more or less educationally...erm...enlightened. at least i know that i'm not looking after stupidity in any way. stay tuned.





2008OCT18 the new shit...
while everybody was sleeping and for sure already has forgotten minor two nice and special releases came out. situated somewhere in quiet electronic soundscapes these two semi-acoustic ambient trips probably might be the last minor-releases on cdr. minor018 is modelled by German musician repetition/distract, minor021, a factory produced cdr was created by re-drum in collaboration with rattus, both from russia.
enjoy and dream to the sound of silence, get them at minor-mailorder


2008JAN07 Minor modernization.
the updated page now features a direct link to myspace. yeah.
don't forget: myspace is your space and your place stays myspace, but my space is this place 'cause this chase is mine!


2007OCT08 New Homebase - the death of the west!
For all who like to write or just for other reasons: minor left the west (of LE) and moved to PRO-missing east-central, just check the impressum. or contact me for any undeclinable reason...


2007JUN22 yeah, i'm back. still and as before minor just means techno.
you know: there is this boring music that these fake grufties are dancing to, complaining about and wasting money for in pay-for-mp3 online shops.
if you're different...welcome!


2007FEB11 exploring the struktur des wahnsinns, the label will rest for a while. some delay in emailing and shipping could occur, but feel free to order if you like...
stay healthy, stay active, don't give up!
best wishes & thanx!




2006DEC17 minority,
introducing related projects and friends of the minor-community this nice CD opens a new glance on electronic sounds and "noises" minor will work with/for in future. for tracklist just click "releases" (navigator), for getting it and supporting the underground try the mailorder.




2006DEC11 minor in da press,
yes, we're young, we're angry & we have something to say.
together with major-label minor filled 8 pages with the label's history, (non)sense and attitude in transmission fanzine nr. 6 (german). get these 102p. for wave/punk/alternative culture in the mailorder (fan-stuff/fanzine section!), maybe available for reading at this page soon.


2006DEC10 concepts and communication,
originals in perfection and with soul...arrange them, filter them, put them into sounds and modell them into something again. done by dubbling crack monster from switzerland. if art or odd find out yourself!


2006OCT25

maschinenpark III,
thought and praised to be shiny successor of mpII, outbidding it in its glory and intercultural fusion of worldwide ideas of what is noise and what is not, is CANCELED.
at least from my side.




2006AUG20 fast forward, 2nd!
minor016, tangled between 'undanceable' and ironic anti-concepts, deferred electric experimental.
whatever this music is intended to be...






2006JUL20 fast forward!
while thin electronic music makes western europe suffer, fresh and promising conceptions are emerging out of eastern europe. recommended project yvat, settled in Bucarest/Romania, consequently explores semi-sounds and musical de-structured electronics, this time on minor020.
fancy!











2006MAY28 high on emptiness
exploring lost trashures ...

not ignorant of the current ambient flood, minor rooted the archives and caught an unusual creature to join.
uneasy and non-digital as life is.




2006MAY14 still alive...
out of mess and confusion surviving winter and plastic Minor proudly presents sound_00 (macedonia), gets back into biz and sound and will contribute some effords to the scene and its current state.
the system's the same as ever, so the anger is...


2006MAR06 Minor strikes back!


second vinyl of the legendary (but inofficial) minor-split series ready! cooperation with the famous alphacut-label from Leipzig. promising lxxxc shares the wax with another secret minor act, called tlic.
combining dark mooded electronica with inconcrete dancefloor structures or anti-dance-concepts this tiny vinyl is filled with hard(ly) rockin' noiz-techno, 4bit-d'n'b and a little tone of melancholy. rock on!!!


2005OCT16 A-CORE finally launched!!!















Check out the newest minor-release!
Support further nonsense- compilations!


2005MAY07 A-CORE
minorlabel & coldcoffeinaddict present:













conceived in 2003, having lot's of fans & scene gossip since then, finally going to be released somewhen in late 2005, unbelievable!
over 20 senseless versions of the good old tv theme you all know.

childish breakcore, dumb idm & fucked up gabba tracks by the ones like bernd spring, brother b!, death sitcom, dr. combat, e.stonji, kalathuru, kid kozmoe, lxc, mimaku spldat, nexialist, pork four, rdr, sinebag, skeft, society suckers, tlic, tremor & nunina, wipeout.

don't miss these on limited tape, cdr or top secret 7" edition.



2005JAN07 further exploration...
another year is coming up and worldwide music will crash down further and further. maybe it will be dead within the next 12 months, in my heart it actually died in 2001 when the first minor vinyl came out.
we all just waste our time by doing nothing but questionable low quality crap (and call it music), and i am afraid we will somehow go on with it.
we were the raving generation. in our dreams the kids were united. now we're probably a million miles away from home.
the heros are dead, and the friends will follow...
stop expecting wonders. there won't be any revolution if you don't finally get up and start your own label&mailorder. yeah.


2005 NAUMBURG EP - REMIX DILEMMA in honor to the legendary worst minor-release so far (i mean, who can predict the future?!) i started a REMIX TRIP of the NAUMBURG EP's chart-smashers. anyone claiming the titel musician interested in nonsense-projects should contact me, and i will send out some 12 MByte Sample-Data for it may rock your brain.
have a nice time de-constructing, re-arranging, distortioning and over-mixing...take part!




2004NOV12 MINOR012 out now!
mandragora - frost session
If you thought that you right now know all what Minor is about you'll be shocked...or very impressed!
Out now there's another minor pearl on a more and more denied media with a maybe questioned sound.
90 minutes of one legendary live-session with pure emotional d'n'b-related electronica, warm and detailed, coating dark and stirring viola-melodies combined with direct broken rhythm patterns.
Intense psychedelic night music for advanced Minor-audiences. Noiz you probably have every day. This is unique and limited to 51 copies!





2004AUG21 MINOR013 out now!
myna - weltentänzer The last, and for sure the deepest part of the myna-trilogy is launched, featuring dark droning rumbling ambiences with well constructed noiz storms broken up by rhythmic patterns and hypnotic beats.
Don't miss it!


2004JUN20 Improved Mailorder-Service!
Minor now offers paypal though their fees should be worth a boycott. i am even not sure yet how this whole thing works, all i could experience is: ordering now becomes a very easy'n fast thing, only the shipping time will probably be the same annoying factor as before.
however, you decide which way for paying is the easiest for you and i will, as ever, try my best to keep this tiny mailorder working!
Just don't ask about the label!


2004MAY06 Post-address has changed!!!
From now on Minor is waiting for your letters (orders, critics, gossip) at:

minor-label
c/o wiedemann
weissenfelser str. 32
04229 leipzig


2004APR21 Tons of new sounds!
all other ideas&plans have to wait, so be patient!
Maybe you like to go shopping meanwhile!


2004APR04 Minor-Mailorder updated!
If you were unsatisfied with the sorting system of the Minor-Mailorder the problem seems to be solved.
Check it out!




2004MAR01 Stimulus Response - Klopfzeichen
Traumschwinge, Myna and Orion joined the brand new Stimulus Response - tribute-Compilation on which every artist made a song (or two) with the samples taken from their legendary live sessions.
the cdr comes in full black and is well protected in a golden metal box. Strictly limited to 100 pieces and of course full of deep mooded noise-industrial rhythms that hit your brain and legs!
Don't miss it! Get it!!!




2004FEB25 MINOR009 out now!
the tleilaxe music machine - a flow of code
Minor strikes back with a nice (and of course strictly handpacked) cdr full of glitchy and noizy sound-constructs, strictly for listening.
13 well balanced pieces of refreshing anti-music from Sunshine-California, far away from the German way of Noiz!
Check it out in the Minor-Mailorder!!!


2004JAN11 Some new fine records hit the Minor-Mailorder
Some are just in one/two pieces stock available, so be fast or regret it your whole lifetime!


2004JAN01 New year attack-plans!
Looking back onto a year full of music-biz-annoyances Minor (yes, me!) plans to strike back in 2004.
Most of the frequent visitors of these pages might have noticed that i wasn't able to fulfil my streetdates, anyway, that won't change in the new year. my good friend DBT will join the Minor-family with his Tleilaxu Music Machine in the next time on Minor009, all following releases will appear with some more months of delay!
Anyway, thanks to all Minor-friends, the musicians and ESPECIALLY thanks to all listeners!
Stay tuned (or whatever, but don't get lost!)

oh, i forgot!
if someone's not satisfied with this font&fontsize...
sorry, but i can't help'em!
Noise music shouldn't satisfy you, too!
this is MINOR!